CHICAGO, IL — Harper Court Phase II has brought on new developers and a new design, but the laboratory research and office space in the heart of Hyde Park still remains the same.
Alderman Sophia King, 4th Ward, hosted a public meeting on June 23, 2022 for community updates and feedback.
Phase one of the Harper Court project included a now-complete Hyatt Place Hotel off Harper Avenue and a separate, approximately 400,000 square foot office building on the parcel's southeast corner.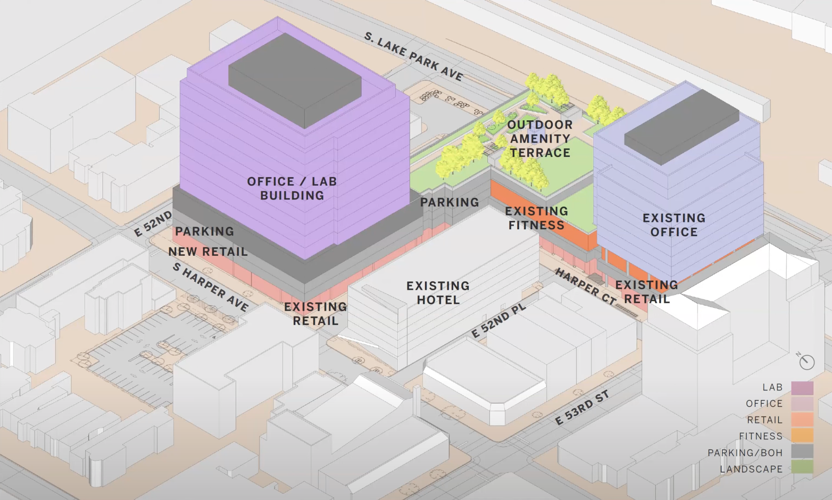 The new project will redevelop a large parcel at the corner of East 52nd Street and South Harper Avenue for a 300,000-square-foot, 13-story lab and office building. 
According to developers, the new, 215-foot building is about 50 feet shorter than the Wexford design, and will include nine floors of lab and office space. Parking and a mechanical floor will go above retail establishments on the ground level, serving as a buffer between the retail use and upstairs lab and office space.
Plans for the long-stalled development now call for a 13-story tower to be located just north of the Hyatt Place Chicago-South, 5225 S. Harper Ave.
Developers plan to build on top of the Chef Erick Williams' new Po'boy and Tavern at 5215 S. Harper Ave. They will demolish the building that housed the Park 52 restaurant. Other existing retail on Harper and 52nd Street will remain, while green space on the nearly three-acre parcel will include seating and an outdoor amenity venue for STEM-based events, according to the developers. The project presented additional parking and the elimination of outdoor loading docks as well.
The second phase is expected to break ground later this year.